I stumbled across a new site that I really like called Whore Lore. I built a gallery for it today, that you can see by clicking here featuring Bonan the Barbarian.
I know the guy that started this site, and he was inspired by RPGs and how many people that did fantasy games who wanted to take it to the next level and make them xxx. I know when I played Fable, I had to play the game as a man, (you couldn't choose to play as a woman) and in order to "marry" a man, I had a gay relationship. And sex? it was just noises behind a black screen.
Yea, I know that kids could play the game, but I would have liked it a bit more realistic. (athough I know Fable II, which I haven't gotten yet because it isn't out on PC, you get to choose between playing as a man or woman, yipee).
I also read a hell of a lot of fantasy books. For instance, right now I'm reading a book series by Kim Harrison that is full of vampires, witches, and demons. And the books have some GREAT sex scenes in it. They make my toes tingle.

So Whore Lore REALLY appeals to me. It is sword and sorcery, barbarians, and really hot sex all rolled up into one. I love the picture below, it is even reminiscent of Boris Vallejo's book covers for fantasy books.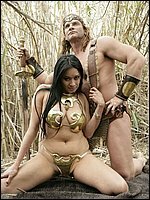 Ok, it does have some cumshots, and some stuff you wouldn't typically find in a porn site for women, but the fantasy aspect of it outweighs this. Check Whore Lore out, I bet you love it as much as I did.