Posted up a porn for women gallery today of Vicky and Chad. Vicky and Chad are newlyweds, and like most newlyweds, sex is pretty much on their mind 24/7. So when Chad comes in the kitchen finding Vicky looking for something to make to eat, all he can think of his how much he'd like to eat her pussy then fuck her for dessert!
So he comes up behind her and kisses her neck, then pulls her into his arms, kissing her deeply. Ladies, I don't know about you, but nothing fires me up faster than a man who knows how to kiss, and takes the time to kiss me thoroughly like Chad does.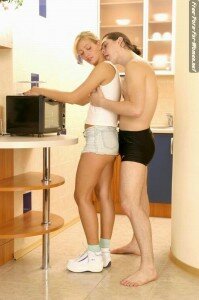 He then pulls off her clothes, and lays her down on the kitchen counter, kissing and licking her pussy until she is hot, wet, and swollen and begging for his cock.
Finally, he enters her from behind while she moans, then bends over and grabs the counter while he pumps his cock in and out of her tight heat. Finally, pulling her on top of him she straddles his cock until they both orgasm… Check out the free gallery of pics by clicking here.