I've always wanted to write fantasy novels that had romantic elements. Since I am too ADD to write a novel, being a 3D artist, I get to create my stories in 3D, and write them a paragraph at a time on each picture.
I have just added my first multi-part fantasy drama to my site, 3D Fantasies For Women. It revolves around Princess Venessa, a 20 year old daughter of an older King in the kingdom of Avalar. Their kingdom has been at peace for over 100 years, but there are rumors that the priests in neighboring Rowan Dree are worshiping the Dark Gods. The last time this happened, a war broke out that almost destroyed humanity.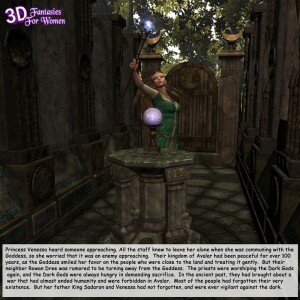 Compressed Sample – Full sized in members area
Having been at peace for so long, the kingdom is lax, and has no army, only a few palace guards. It is ripe for the plucking, and is attacked by Prince Baduk, the brother of the King of Rowan Dree. He wants to take the princess to perform the Droch Rite, which will give him her power to add to that of the Dark Gods. But first, he wishes to find some pleasure between her virgin thighs.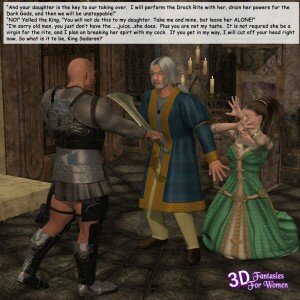 Compressed Sample – Full sized in members area
How will she get out of it? And what happens next? Find out ONLY in our members area! This will be a multi-part series, with the next installment due out in October!